Proven Treatment Results
We have been in business for over 29 years we are the leaders in education, research, training and instrument sales.
Electro-Acuscope 85P (Portable)
Electro-Acuscope 80L
Electro-Acuscope 70C
Neuroscope 230B
Electro-Myopulse EMS 85P (Portable)
Electro-Myopulse 75L
Electro-Myopulse 75F (Fibrosis)
Electro-Myopulse 75LN (Facial)

Advanced Biomedical Technologies manufactures and distributes the most advanced impedance controlled micro-current instruments in the world.
Electro-Myopulse 75L
Most advanced muscle stimulator in the industry.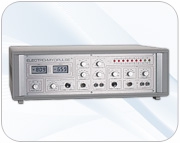 Our newest clinical model Myopulse. Incorporates triple-loop analysis feedback in "real-time". Evaluates impeded values that are read every 2.5 thousanths of a second for the fastest muscle relaxation, in any product available.

Special features: 'AUTO-SCAN' frequency setting. Automatically adjusts to proper frequency during treatment.
Call us toll free, right now!
800-777-7170