Proven Treatment Results
We have been in business for over 29 years we are the leaders in education, research, training and instrument sales.
Electro-Acuscope 85P (Portable)
Electro-Acuscope 80L
Electro-Acuscope 70C
Neuroscope 230B
Electro-Myopulse EMS 85P (Portable)
Electro-Myopulse 75L
Electro-Myopulse 75F (Fibrosis)
Electro-Myopulse 75LN (Facial)

Advanced Biomedical Technologies manufactures and distributes the most advanced impedance controlled micro-current instruments in the world.
Electro-Myopulse EMS 85P (Portable)
There is nothing comparable in the industry.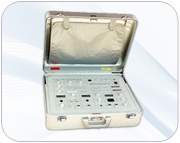 Portability plus added function built into Haliburtor case for safe easy travel .

Our traditional Myopulse technology for Mode 1 with rapid muscle relaxation. Mode 2 is a dual channel EMG with selective cut at .2 micro-volts.

Offering dual channel for quick bi-lateral electrode placement & comparison.

Special features: 4 channel programmed display feedback, allowing for both active and passive comparison. Has hard copy printer when you need documentation.
Call us toll free, right now!
800-777-7170