Proven Treatment Results
We have been in business for over 29 years we are the leaders in education, research, training and instrument sales.
Electro-Acuscope 85P (Portable)
Electro-Acuscope 80L
Electro-Acuscope 70C
Neuroscope 230B
Electro-Myopulse EMS 85P (Portable)
Electro-Myopulse 75L
Electro-Myopulse 75F (Fibrosis)
Electro-Myopulse 75LN (Facial)

Advanced Biomedical Technologies manufactures and distributes the most advanced impedance controlled micro-current instruments in the world.
Electro-Myopulse 75F (Fibrosis)
Perfect modality for therapists looking for the absolute best fascia release in chronic muscle injuries.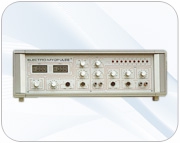 The Electro-Myopulse 75F is simply the most effective chronic muscle injury instrument ever. It was designed and used for the research completed at Fermi Lab, part of the U.S. Dept. of Energy, to reduce the untoward side effects of radiation therapy, primarily tissue scarring. The results of these two pilot studies, 'Pilot Study of Impedance-controlled Microcurrent Therapy for Managing Radiation-Induced Fibrosis in Head-And-Neck Cancer Patients' and the 'Pilot Study of Impedance-conrrolled Microcurrent Theapy for Managing Xerostomia in Head and Neck Cancer Patients' proved that much of this tissue damage could be reversed with treatment using the Electro-Myopulse 75F.

Since the release of these studies we began clinical trails and have gathered over 500 case histories using the Electro-Myopulse 75F in a chronic pain clinic treating muscle fibrosis, scarring created by injury/trauma from whiplash, falls and other accidents, and also over-use syndromes. The results have been better than expected. Nearly 90% of these 500 patients were returned to full function including full ROM, pain scales decreasing to an average of 1 compared to 10 and treatment in treatment times of less than 30 days.

If you are a serious practitioner/therapist looking for quicker, easier and more consistent results for fascia release, muscle fibrosis and scarring or if you are patient that hasn't found help, please respond by calling or e-mailing us at ABT info@advbiomed.com or call toll free 800-777-7170

We are offering introductory courses for practitioner/therapists who need this Electro-Myopulse 75F technology for their practice. Contact us today!


Call us toll free, right now!
800-777-7170