Proven Treatment Results
We have been in business for over 29 years we are the leaders in education, research, training and instrument sales.
Electro-Acuscope 85P (Portable)
Electro-Acuscope 80L
Electro-Acuscope 70C
Neuroscope 230B
Electro-Myopulse EMS 85P (Portable)
Electro-Myopulse 75L
Electro-Myopulse 75F (Fibrosis)
Electro-Myopulse 75LN (Facial)

Advanced Biomedical Technologies manufactures and distributes the most advanced impedance controlled micro-current instruments in the world.
Electro-Myopulse 75LN (Facial)
Most advanced muscle stimulator in the industry.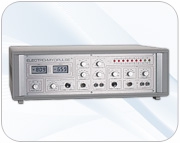 Same basic instrument as the Myopulse 75L but incorporates an expanded frequency modifier board to cover the dermis as well as muscle.

Special featrues: Designed for facials, cellulite and skin treatments.
Call us toll free, right now!
800-777-7170